MANHASSET, NEW YORK, MAY 20, 2019 Tonia DeCosimo, founder of P.O.W.E.R. (Professional Organization of Women of Excellence Recognized) celebrated their Awards Gala at the Mansion at Oyster Bay in Woodbury, New York  on May 16, 2019.  This event was held to celebrate all women.  Fifteen extraordinary women were chosen to be honored with an award for their exceptional leadership and dedication in their profession or industry.  These women inspire and empower us to be the best we can be.  They prove that with passion, perseverance and dedication anything is possible.  A silent auction was also held to benefit Mondays at Racine Cancer Care Foundation.
ABOUT THE P.O.W.E.R. AWARDS GALA
The P.O.W.E.R. Awards Gala opened with a greeting from its Founder, Tonia DeCosimo.  She welcomed everyone to the Gala and thanked all of the guests who flew in from all over the country for being there to support these amazing and empowering women.  P.O.W.E.R. features and highlights celebrities, A-listers and everyday hardworking women in all industries and professions on a national level.  Women today are juggling it all by working, caring for their families, mentoring other women and trying to sneak in some alone time.  At P.O.W.E.R., they try to make women's lives easier by assisting them with networking, branding and marketing services to help them gain the exposure and recognition they deserve.  In addition, P.O.W.E.R publishes a quarterly magazine showcasing celebrities and their hardworking members.
Even though this was an evening to celebrate all women, Tonia and her team selected fifteen extraordinary individuals to honor.  The awards were given by a variety of presenters including Joseph Saladino, Supervisor of the Town of Oyster Bay who presented P.O.W.E.R. with a special citation for holding this event in the TOB.  Carol Silva, the Emmy Award-winning Morning and Midday Edition anchor at News 12 Long Island, presented the award to Mondays at Racine Cancer Care Foundation.  The fifteen awards presented were:
P.O.W.E.R. Nonprofit for Cancer Support Award- Mondays at Racine Cancer Care Foundation
P.O.W.E.R. Rising Star Award- Elizabeth Sutton
P.O.W.E.R. Excellence in Jewelry Award- Esther Fortunoff
P.O.W.E.R. Creative Media and Entertainment Award—Dorothy Toran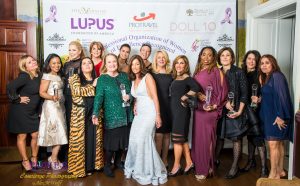 P.O.W.E.R. Philanthropist Award-Dolores Catania
P.O.W.E.R. Outstanding Entrepreneur Award-Marcie Manfredonia Siciliano
P.O.W.E.R. Realtor Award-Linda Faraldo
P.O.W.E.R. Outstanding Advocate Award-Regina Calcaterra
P.O.W.E.R. Travel and Tourism Award-JoAnn Tripi
P.O.W.E.R. Mentor Award-Leslie O'Hare
P.O.W.E.R. Health and Fitness Award-Erin Oprea
P.O.W.E.R. Excellence in Beauty Award-Doris Dalton
P.O.W.E.R. Top Medical Doctor Award- Dr. Alyson Kemba Myers
P.O.W.E.R. Woman of the Year Award-Dr. Leona Ayers
P.O.W.E.R. Couple of the Year Award: Heather and Dr.Terry Dubrow
Following the awards presentations, Al Maglione, original pioneer disco DJ, introduced Disco Diva Carol Williams who performed a medley of hits.
SILENT AUCTION FOR MONDAYS AT RACINE CANCER CARE FOUNDATION
Mondays at Racine is a nonprofit Cancer Care Foundation located in fifteen strategic areas across Long Island, New York, New Jersey and Indiana.  Deeply affected by her family's affliction with cancer, Karla Waldron with her sisters Cynthia and Rachel created Mondays at Racine.  This network of salons and spas opens their doors every Monday to provide beauty, health and wellness services to men and women undergoing treatment for cancer, all at no cost to the patient.  From head shaving, wig care, reiki therapy, esthetics, cosmetics and massage therapy, this program is about treating the whole person, not just the disease.  Their mission is to create a change in how people cope and live with cancer.  Since 2003, more than 8,000 patients have received Racine's complimentary beauty and wellness services.  It is a place where solace, support and a sense of community can be found.  They are truly changing the face of cancer one Monday at a time.  Present to accept the award were the founders of Mondays at Racine, Karla Waldron, Cynthia Sansone , Rachel DeMolfetto and Rosemary Berger VP of Program development.
In addition to receiving the P.O.W.E.R. Nonprofit for Cancer Support Award, a Silent Auction was held for this amazing organization.  All proceeds from the silent auction and raffle were presented to Mondays at Racine Cancer Care.  The amazing raffle baskets were well received.
The wonderful evening began with a P.O.W.E.R. signature cocktail, followed by dining, dancing to a fabulous DJ and mingling with new friends and future business connections.  Swag bags were given out filled with goodies that included Doris Dalton Doll 10 Cosmetics, Trish McEvoy Beauty, Custom Candle Co. from Marcie Manfredonia Siciliano and Perfectly Posh pampering products from Alison Swerdloff.  Esther Fortunoff kindly gave gift certificates to the fifteen honorees.
P.O.W.E.R. and its members look forward to more upcoming events in the future. For further information, contact www.powerwoe.com.